A massive brand-new home built in the exclusive 90210 zip code just hit the market for a whopping $100 million.
Located in the highly sought-after neighborhood of Trousdale Estates, the spectacular mansion which is being called Opus is built by ex-movie producer turned real estate developer Nile Niami and architect Paul McClean.
The 20,500-square-foot Opus perched above Los Angeles overlooks the city and the Pacific Ocean from its hilltop location.
Trousdale Estates has long been known as one of the most elite communities in the city and is even nicknamed "Billionaire's Row" by locals. Typically lots in this area are priced between $32 to $50 million each.
The Opus, comes complete with seven bedrooms, 11 bathrooms, as the property sits on one acre of land that offers views of Los Angeles from Downtown all the way to the Pacific Ocean.
Inside, the residence features a spectacular master suite that comes with large floor-to-ceiling windows, dual baths and closets, and the suit also offers unobstructed views of the entire city. Other spectacular features include a retractable glass wall that opens up to the patio, motorized sliding doors, 12-foot ceilings, a 15-person screening room, Roberto Cavalli flooring, and Longhi doors in suede and embossed leather.
On the other side of the living room is a TV that rotates 360-degrees so you can watch it from wherever you are. The exquisite mansion wouldn't be complete without the gourmet show kitchen with an iPad controlled top brewer.
The property, which is currently the most expensive home being sold in the area, boasts many amenities. Developer Niami created a wellness center with hot and cold plunge pools. The wellness center also boasts a massage room, steam room and beauty salon (with manicure and pedicure station) to allow for in-home treatments.
One of its coolest amenities, though, is its car museum which can hold up to 10 vehicles. Thrown into your purchase is also a gold Lamborghini Aventador roadster and a gold Rolls-Royce Dawn.
For art lovers, the residence features contemporary art pieces such as two large Damien Hirst originals (valued at over $2 million) and an Andy Warhol portrait of late boxing legend of Muhammad Ali.
When it comes to relaxing, owners can lounge outdoors by the infinity pool or head indoors to the heated pool when the weather begins to drop.
Of course, no mansion is complete without a wine room, and Opus not only has a 944-bottle space but also includes a separate Champagne vault. The vault is stocked with $250,000 worth of Cristal Champagne, which is about 170 bottles. On top of the champagne room, two full bars can be found within the massive home, as it also includes a wine station.
The mansion also comes with a full-time manager whose salary is factored into the price for the first two years.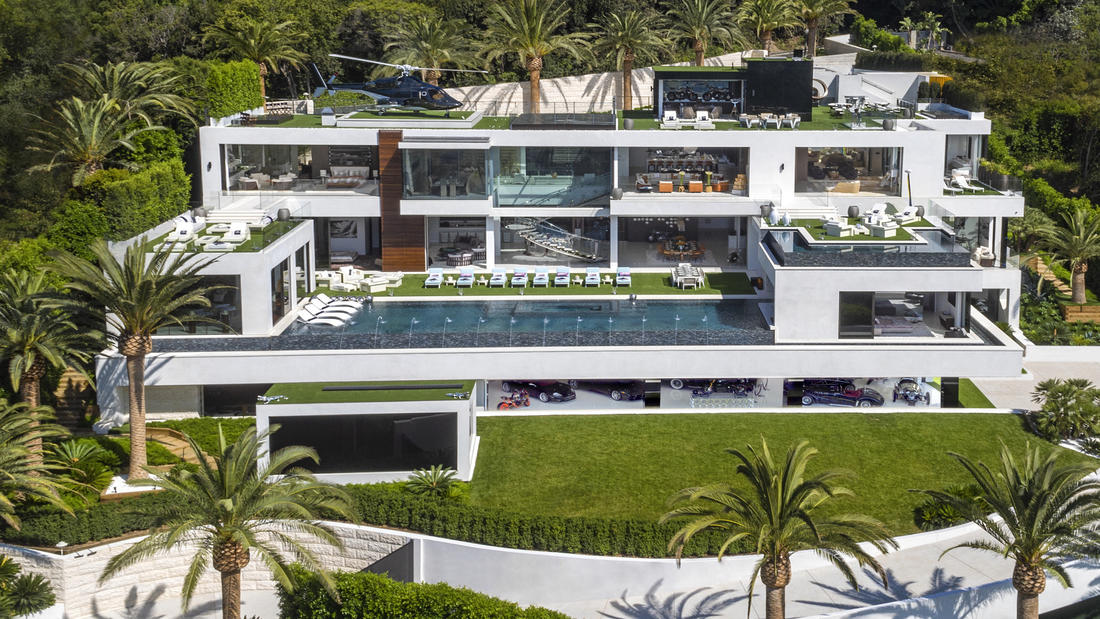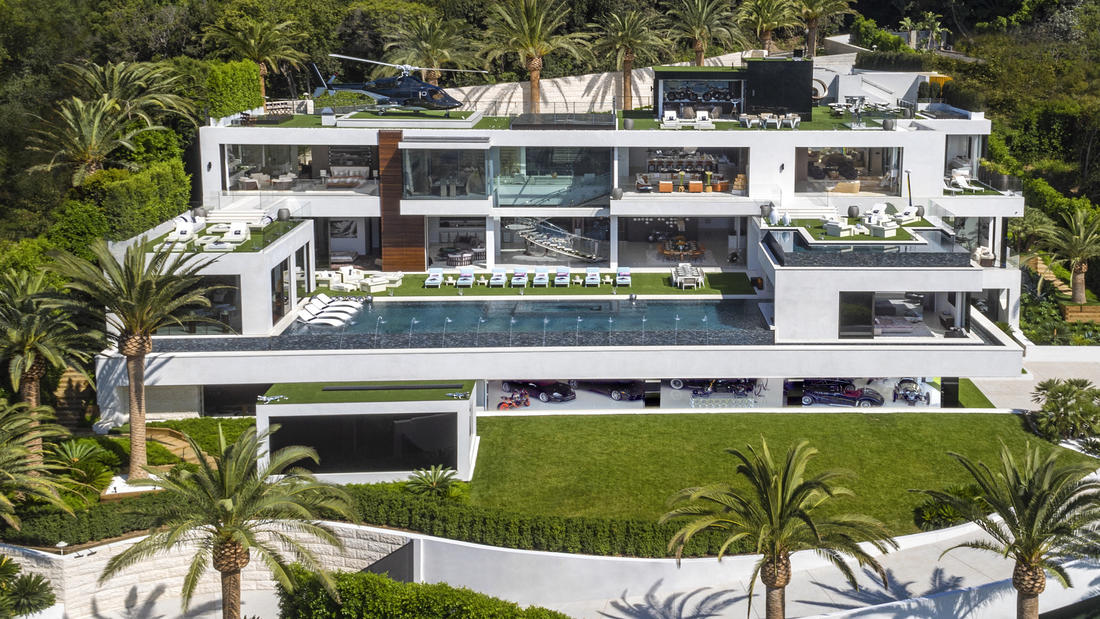 Apparently, over-the-top speculative homes are the flavor of the month in Los Angeles. Just weeks after we featured this $250 million mansion that was unveiled in Bel Air.
If the $250 million Bel Air mansion and the $100 million Opus is not up to your caliber, don't worry, Niami is currently developing a property in the costly Bel-Air neighborhood that will list for a whopping $500million.
More Photos