At the EICMA show in Milan, KTM decided to "unleash the beast," – the 2017 KTM 1290 Super Duke R. The company has unveiled an updated the 2014 1290 Super Duke R model to a new model that might be more of a missile than a motorcycle.
To start the revamping of an already beast, KTM engineers decided to first work on the styling and ergonomics. The handlebars increase in width by 20mm while also being slightly lowered and pushed forward for a riding position that is comfortable for relaxed riding, but aggressive when it's time to let the Super Duke loose. In the styling department, changes include new side fairings and intake scoops, a sharper and slimmer rear tail section.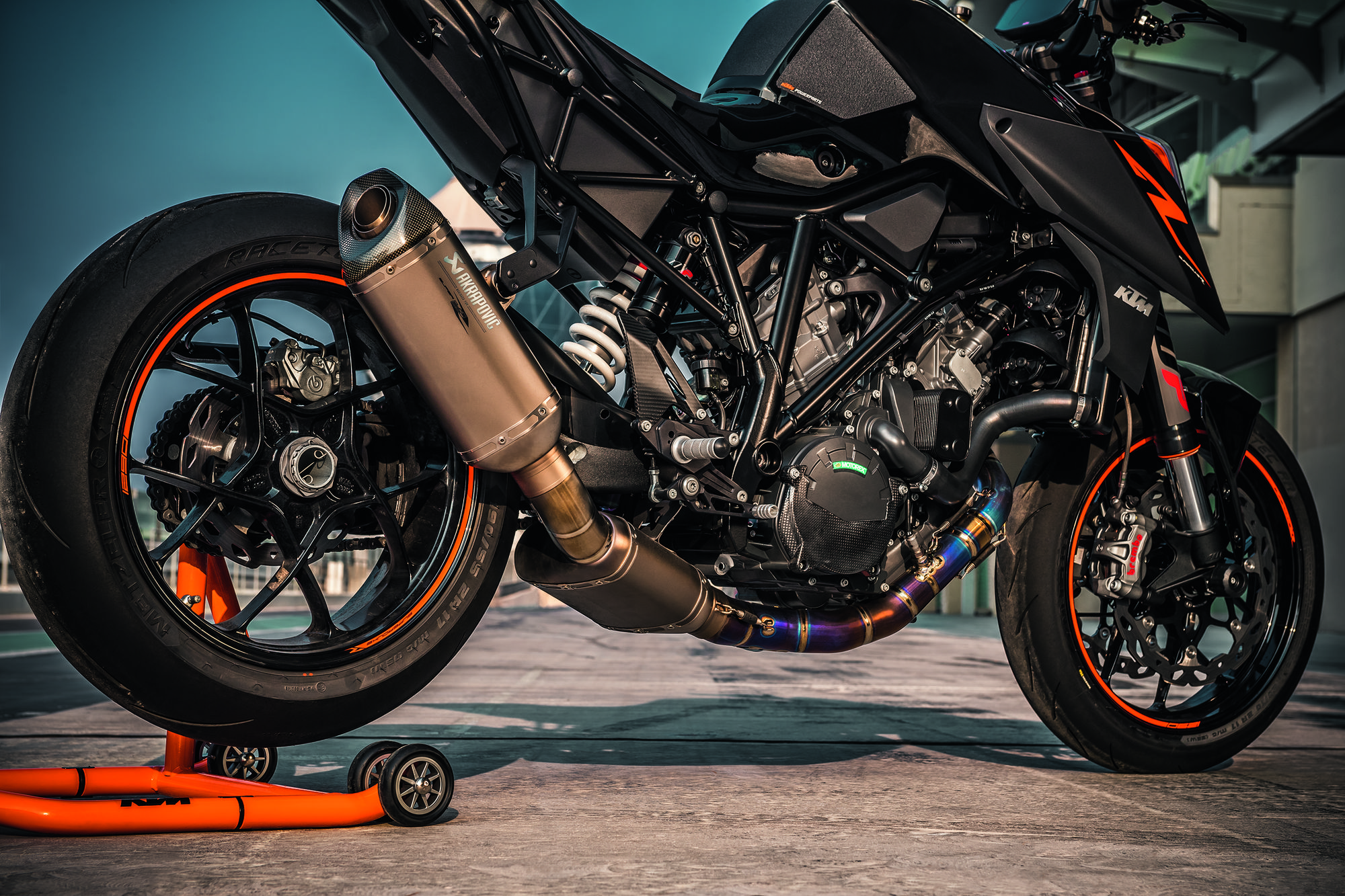 The powerfully agile 2017 KTM 1290 Super Duke R is also unabashedly naked. It's revealing, steel trellis frame is paired with the most powerful version of the Austrian bike builder's LC8 engine ever applied to one of the brand's street machines.
Fast just became faster. This engine, in its latest incarnation, pumps out an arm wrenching 177 hp while its torque figures reach for the sky between 6,750 rpm (140 Nm) and 7,000 rpm (141 Nm). So it's stronger than ever, but we made it run smoother than ever as well thanks to overhauled resonator chambers. The new resonator chambers on the cylinder heads make the engine more fuel- and eco-friendly, reducing its carbon dioxide footprint by 10 percent. All in all, weighing in at around 62 kg, the extremely slim 4-valve unit is one of the lightest big twins in the world.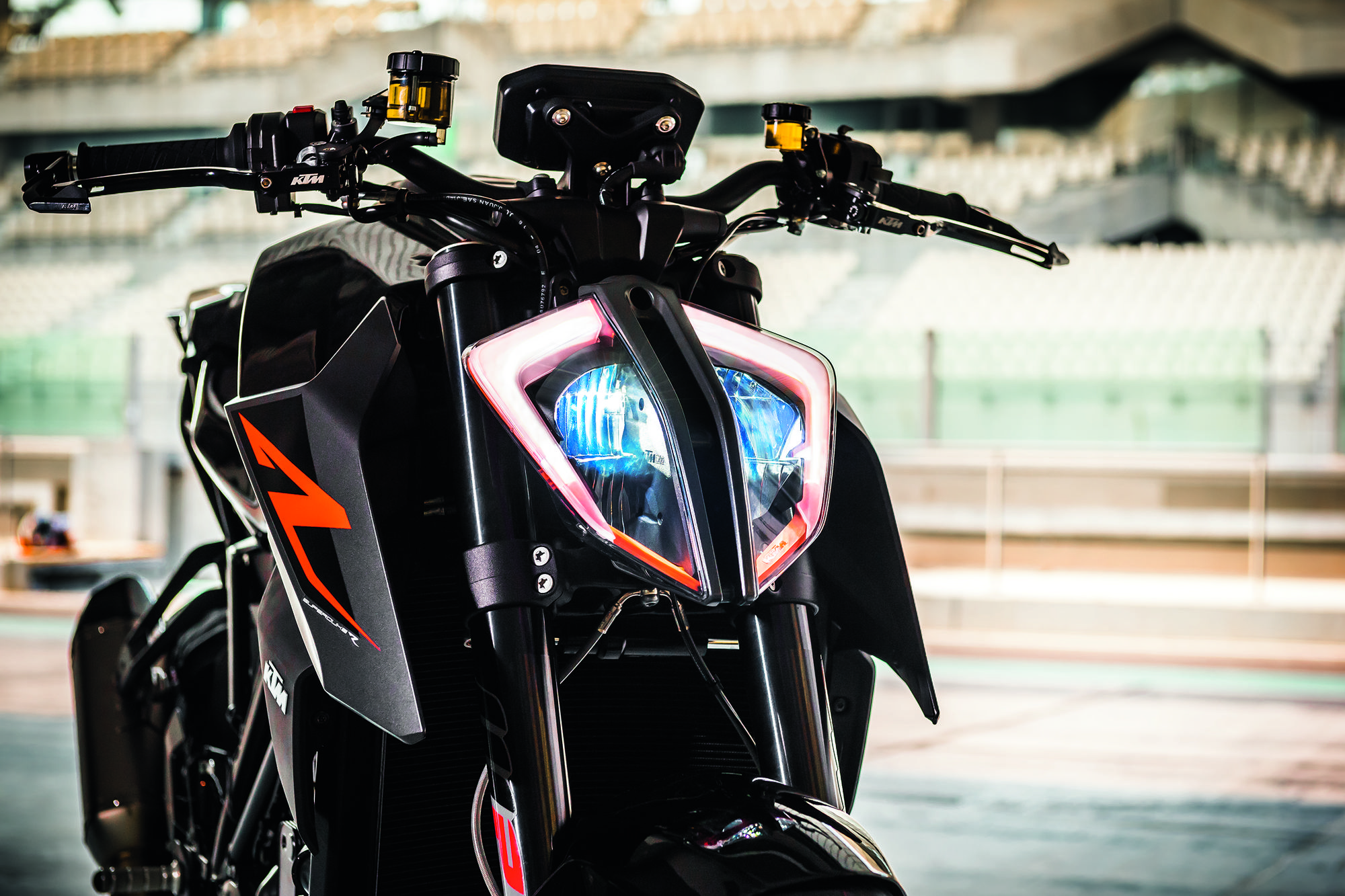 The first noticeable change is the makeover given to Super Duke. The new LED headlight and daytime running lights match are designed to fall more in line with the KTM's updated adventure bikes. The bodywork is also new, and further sharpening the bike's already sharp lines with tank spoilers and new air intakes.
Complementing the hardware is a consort of software-assisted componentry that allow for customization of the ride experience. These include Bosch's Motorcycle Stability Control (MSC) with an anti-lock braking system; Motorcycle Traction Control (MTC) with settings of Sport, Street, and Rain; Supermoto mode for deliberate drifts; and an optional Track mode which, among other elements, enables wheelies. Conversely, the launch control feature—a capability never before carried on any KTM motorcycle—limits the rear wheel's spin and front wheel's lift for stand-out standing-starts. And translating rider intent to the road or track are Metzeler M7RR tires worn by 17-inch alloy wheels.
Ride information is provided through a thin film transistor (TFT) display that offers hands-free connectivity to a smartphone. Menu options are managed by controls on the handlebars to help ensure that the pilot's focus never falters and, to simplify matters even more, the ignition that activates all the action is keyless. As with Baryshnikov and Jordan, the KTM 1290 Super Duke R may be a generational combination of finesses and ferocity—one that starts at $17,999.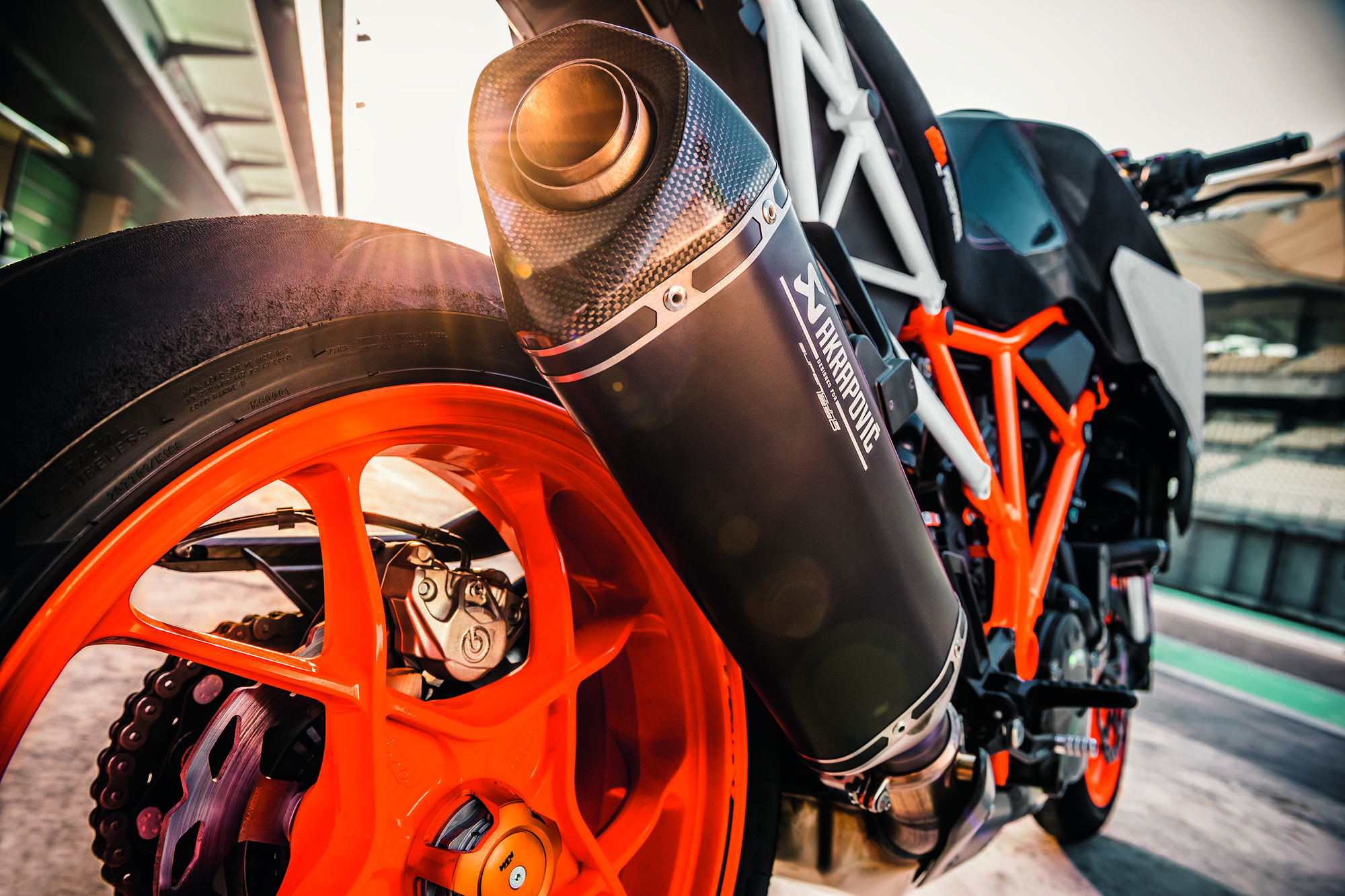 Photo Gallery