Ibiza Island is truly a billionaires playground and vacation home to some of the most wealthy people on the planet. Ibiza, Spain is located in the Balearic waters of the Mediterranean Sea. Situated off the East Coast of Spain and ten times the size of Manhattan.
Arguably, Ibiza's most spectacular estate, and one of the most significant properties in the entire Mediterranean. Villa Salomé sits on over 7.5 acres of sea front, tropical gardens and manicured lawns, a top the most secluded Bluff in exclusive Cala Llenya on Ibiza's northeastern tip.
In the heart of a 4-acre luxurious exotic garden, three independent houses form the Villa Salomé. Dissimulated inside a dense tropical forest, houses are accessible via little paths and wooden bridges crossing ponds. The main house built near a cliff offers a gorgeous view of Cala Mastella bay. From there, a coastal path leads to a private pontoon, ideal starting point for nautical adventures or great diving platform. Back around the houses, two pools are available: an infinity edge one between the main house and the sea and an "Olympic" pool at the back of the yard. Relentless swimmers will appreciate the shadow of the verdant arbor, partially covering the 30 meters long pool.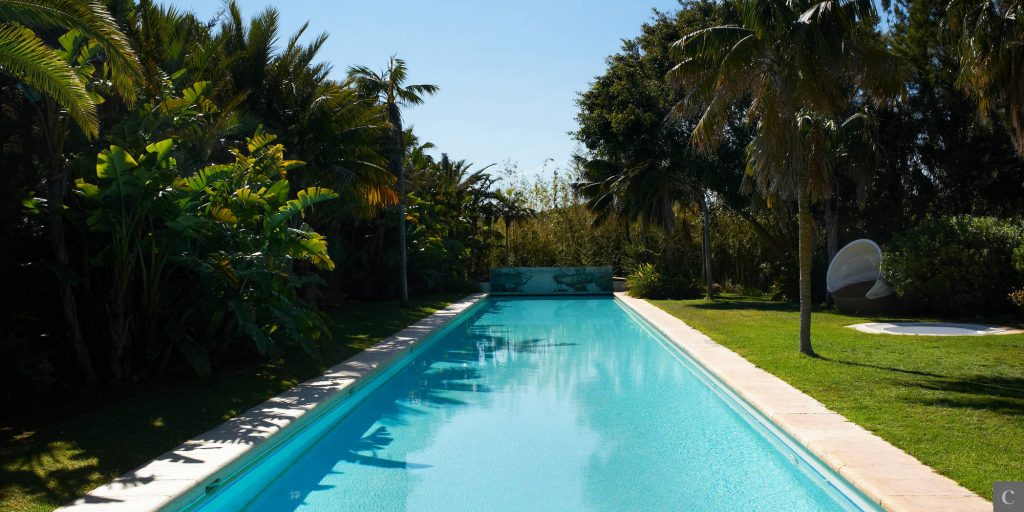 Living areas are vast and full of light, poetically furnished. With large modular open/close sliding glass doors, the main house displays a large lounge from where splendid views on the sea or on the garden are available. Around the table of the dining area, the 8 guests will enjoy the multiple decorations and ornaments, giving the area a charming atmosphere.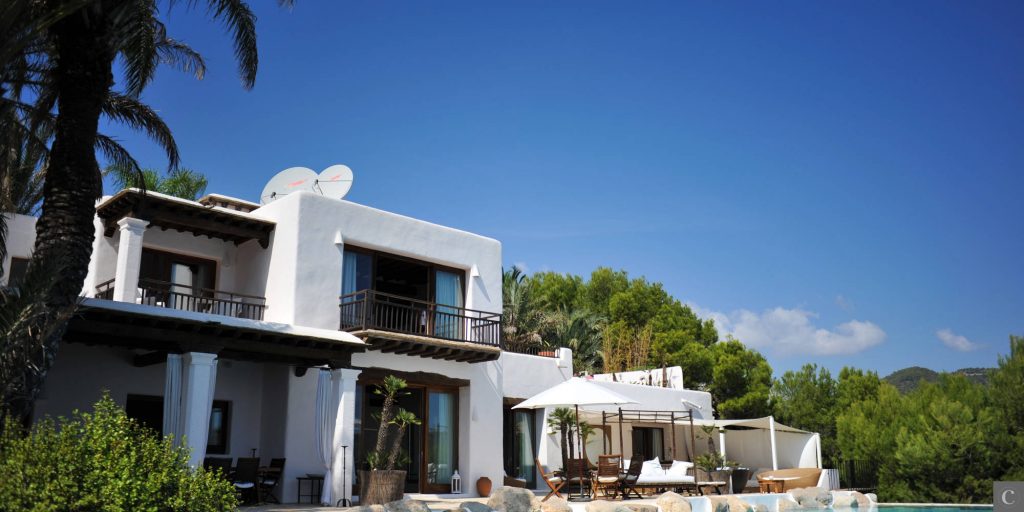 Four bedrooms and suites can be found in the two-storey main house. The other houses offer two extra rooms, one living/dining room, and one kitchen. Each room includes its own bathroom, following the decorative "out of the ordinary" style of the main house.
The main house, La Buena Sombra incorporates two large king-bedded suites on either side of the main floor, with the living and dining areas in between, that open up to the poolside dining, lounging and bar areas. The property's architect, Rolph Blakstad Sr., masterfully coupled floor to ceiling windows providing a fresh and bright openness whilst still retaining the Finca's charm with huge exposed wooden beams to create both a beach and country house in the same space.
Villa Salomé is currently on sale for an unlisted price. Alternatively, you can rent the property for $16,300 – $22,200 per night.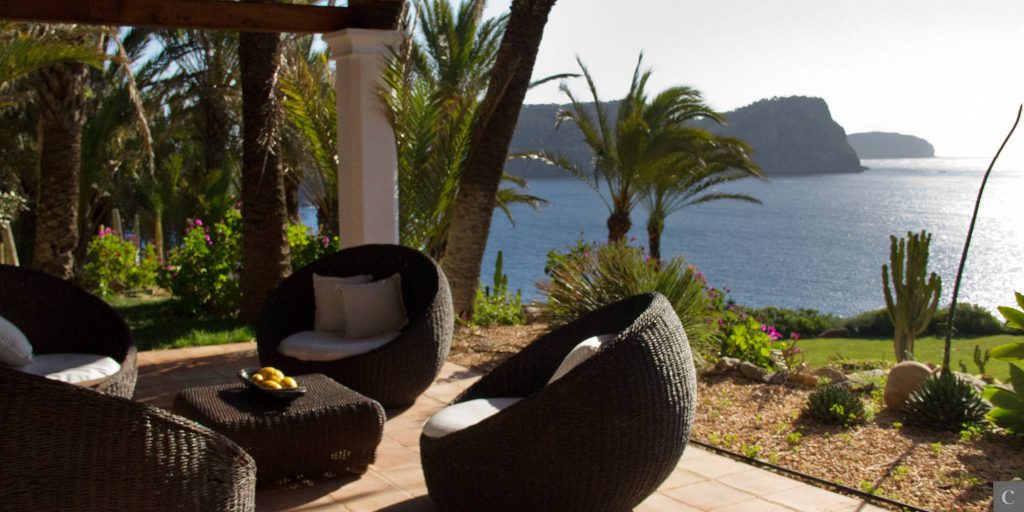 AMENITIES 
---
8 EN-SUITE BEDROOMS
DAILY HOUSEKEEPING
SECURITY GATED
LUSH TROPICAL GARDEN
INFINITY POOL
HEATED POOL
TENNIS
INTERNET Wi-Fi
HOME THEATER
AIR CONDITIONING
CONCIERGE
WATER ACCESS
Photo Gallery 
---