A luxury yacht charter not only offers the chance of exploring a different destination on each occasion, but also the opportunity to try out some of the coolest water toys and enjoy some of the most amazing onboard superyacht amenities. Different types of yachts offer a diverse selection of water toys and equipment with the expedition yachts known for being packed to the brim with water toys both cutting-edge and classic. From simple paddling boards and towable donuts, right through to high-tech flyboards and personal submarines, there is something to please everyone.
Some of the latest concepts feature basketball courts or exquisitely decorated spa centres, as well as amazing outdoor cinemas and fully-equipped gymnasiums, including your own personal trainer. The next time you visit the Mediterranean, Caribbean or cruise the South Pacific, make sure you speak to your broker about the amenities and water toys you would like to have with you on your travels.
Water toys
Hoverboards and flyboards
Some of the latest and greatest water toys to be added to luxury yachts, hoverboards and flyboards are an adrenaline-seeker's Holy Grail: Zoom across the water and learn stunts that will impress your spectators when you dive deep under the water and somersault through the air.
Jetskis, Waverunners and Seabobs
For high-powered fun above and below the waves, jet skis and sea scooters have become a standard addition to superyachts, and they're popular for a reason:. Zoom along the beaches and uncover what's behind the next corner, or dive under the waves on a sea scooter to catch up to exotic schools of fish in a matter of moments. Earn your jet ski license during your holiday and charter a superyacht with status as an RYA Water Sports Centre.
Windsurfers, kite surfers and sailing boats.
Even if you charter a motor yacht, you can still experience the power and grace of sailing with the onboard selection of toys. Some superyachts offer windsurfer and kitesurfer instructors so that guests can spend their time learning a new skill to take away with them while sailing boats are a fun way to manoeuvre through mangroves and lagoons.
Kayaks, canoes and paddleboards
One of the quintessential ways of exploring coastlines either on your own or with a group, kayaking, canoeing and now even paddle-boarding offers gentle exercise and a way to get up close to the towering arches and caves for that picture-perfect moment.
Explore such exotic locations as Papua New Guinea and Thailand or paddle alongside the icebergs and sheer fjords of Greenland and Norway on a charter in Northern Europe.
Water skis and towable toys.
The tenders can be put to use as something other than a way to connect to the mainland as they entertain your guests with water skis and other towable toys. Feel the thrill of being pulled along on a wakeboard and discover which of your friends and family have a touch of schadenfreude as they watch you learn to balance on the water skis. Children's sets are also available, and while the younger ones are out on the water, the adults in the group can enjoy some quiet time in the Jacuzzi or spa.
Water slides and inflatable toys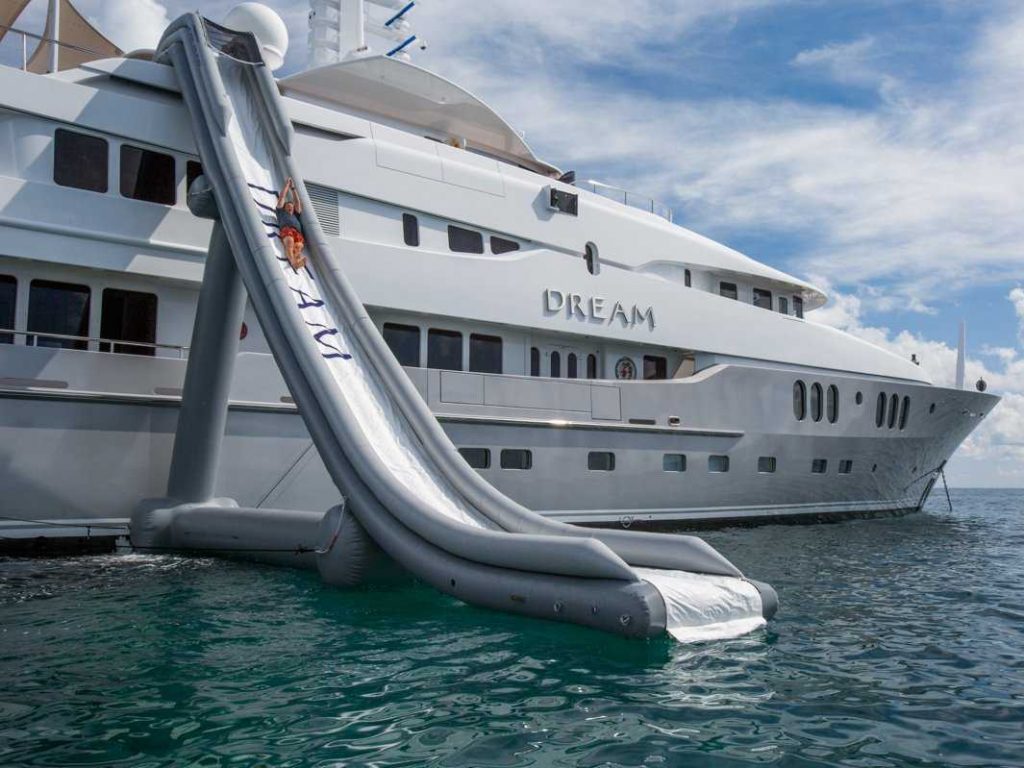 Many superyachts have an inflatable water slide so that guests can feel the thrill of plunging 9m/30ft or greater from the bridge deck down into the clear blue water below. Also included might be an inflatable climbing wall that lets you challenge friends and family to a race to the top.
Inflatable toys can cover high-octane thrills such as the banana and rings when towed by the tender, or as calming as bobbing up and down on the waves in an inflatable ball or donut: The versatility is endless.
Helicopters, submarines and all-terrain vehicles
For the charter party that wants to go farther and see some of the rarest and most beautiful places the world has to offer, an expedition yacht is a perfect way to travel.
A helicopter with its own refuelling hangar will allow the group to see the dramatic landscapes, whereas there are submarines that can be controlled remotely or host a couple of guests for an undersea voyage with an experienced pilot. On the rare occasion, there is even the opportunity to charter an explorer yacht with an all-terrain vehicle – a superb way to explore the rocky shores of Patagonia.
Fishing gear, golf, basketball courts and tennis courts
There's also a splendid range of recreational activities for guests to use without ever setting foot in the water. In recent years some superyachts have a bow that can be used to play basketball or golf, while 98m/322ft superyacht AVIVA from Abeking & Rasmussen has the claim of being the first yacht built with an indoor Padel tennis court.
And although not technically a water toy, fishing equipment is typically included in the toy chest for those looking to relax and incorporate another hobby, such as listening to music or reading into their schedule.
Amenities
Jacuzzis
Practically a staple of the luxury yachting experience, even new-build sailing yachts are finding the space to integrate one into the deck or up on the flybridge. For hot afternoons or nights filled with glittering stars, a sundeck Jacuzzi is an ambient place to sit back and enjoy a cocktail with a loved one while absorbing the incredible views.
Saunas, steam rooms and hammams
Perfect for warming up from a scuba dive in deeper and colder locations, a steam room, sauna or hammam is also a favourite amenity for guests who like to work out in the gym or as a place to unwind and chat on a special event charter.
Reported health benefits of a sauna (dry heat) or steam room (wet heat) include relieving breathing problems, aiding in muscle and joint relaxation for post-workout recovery and helping to improve skin appearance and circulation.
Cinemas (indoor and outdoor) and media rooms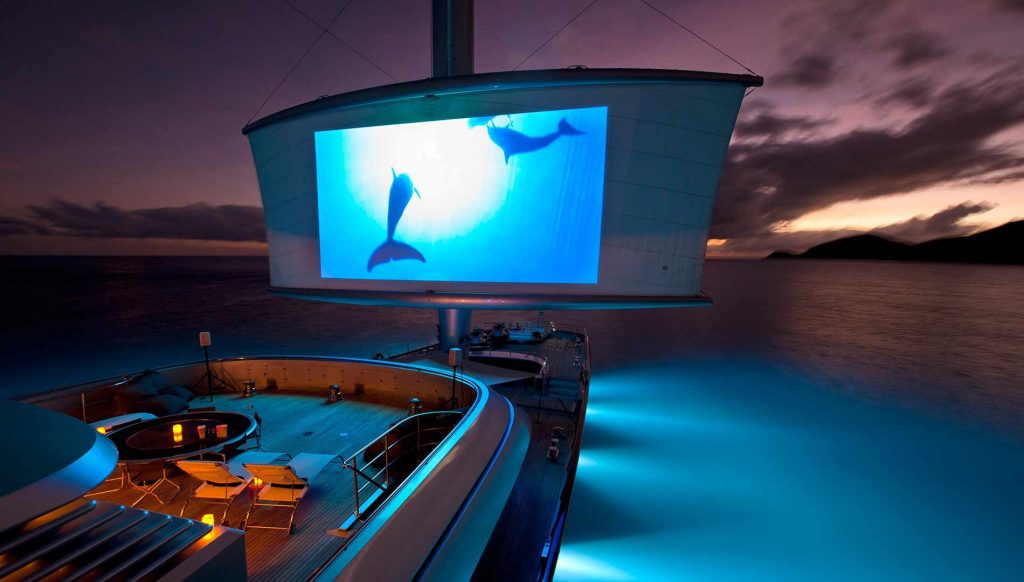 The cinema setup varies from one luxury yacht to the next, with some offering the full traditional screening room while others have a state-of-the-art skylounge where the wall-mounted or drop-down cinema screen.
Outdoor cinemas on the bridge deck or skylounge present the unique opportunity to combine relaxation with time in your environment, whether it's a quiet deserted island in the Bahamas or outside a bustling Mediterranean port.
Beauty salons
Step off your superyacht looking immaculate with the use of the onboard beauty salon, where one of the professionally trained crew will take care of your hairstyle, offer a soothing facial and pamper you with a manicure/pedicure while you relax in tranquil surroundings. Larger superyachts are usually fitted with this feature in preparation for special celebrations or events, or merely to offer unique and personalised treatment to guests on board.
Spa massage services
There are few better ways to end the day than with spa and massage treatments in your own onboard retreat. Spend your time hiking or horse riding in some of the finest countrysides in the world, then return and relax while trained masseuse unknots aching muscles for the best night's rest you've experienced in a long time.
Gyms, fitness instructors and nutritionists
A gym is a typical feature aboard superyachts for exercising while cruising between destinations, although some may only offer a selection of dumbbells and yoga mats while others are exhaustively equipped with weight machines, exercise bikes and much more. To complement other wellness features aboard a superyacht, crew members might also have specialised expertise, such as yoga instructor qualifications or as nutritionists.